His Indian friend met Elon Musk, said - he has not seen a more earthly person till date
Prannoy is Musk's online friend. Both of them were friends from the year 2018 through Twitter. It is a pleasure meeting Prannoy, which he has mentioned on his Twitter account. Prannoy has said that Musk is a human being connected to the earth.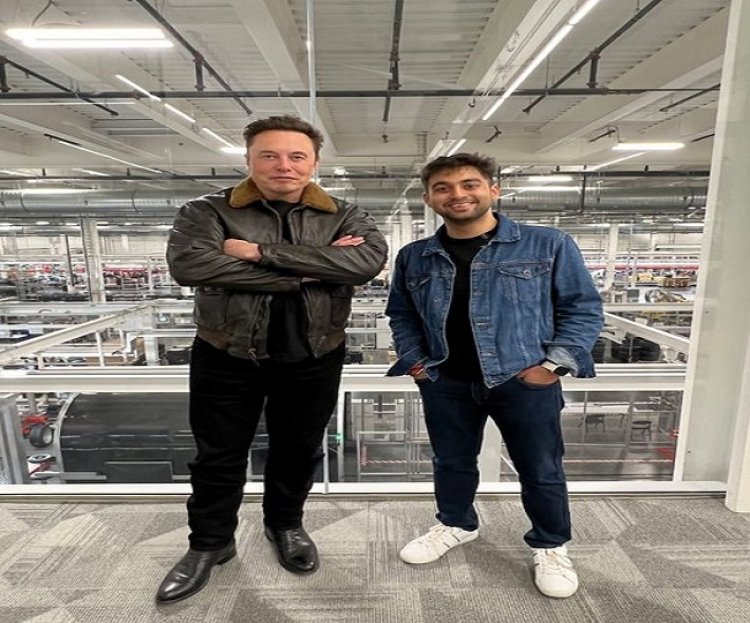 Pranay Pathole, CEO of Tesla and SpaceX and online friend of billionaire Elon Musk, met him recently. Patole, a resident of Pune, met Musk at Tesla's plant in Texas. Social media created a sensation as soon as the pictures of Prannoy and Musk surfaced together. The question came in everyone's mind who is this Indian boy who is friends with the world's legendary businessman Musk.
Please tell that Pranay is Musk's online friend. Both of them were friends from the year 2018 through Twitter. After meeting with Musk, Prannoy revealed many important things about his personality. Prannoy has said that Elon Musk is a very humble and down-to-earth person.
23-year-old Prannoy shared a picture of himself with Musk on Twitter on Monday, writing in its caption, 'It was great to meet Elon Musk at the Gigafactory in Texas. Never seen such a humble and down-to-earth person. You are an inspiration to millions. The tweet has been retweeted 2,336 times till the time of writing this news and has garnered more than 52 thousand likes so far.
Pranay, an engineer by profession, told about this meeting, 'No one can tell by looking at him, how he is really. I think he would have liked whatever kind of questions I asked him during this period.
Prannoy is keen to work at Tesla, but not on the recommendation of anyone, but on his own. He says, 'I want to get a job at Tesla on my own. I don't need anyone's recommendation. Yes, it would be nice if Musk would interview me.
It is known that Musk and Prannoy have an online conversation. The two exchange views on a wide range of issues from cars to space.